At IC Insurance, we know the significance of estimating potential risk and cost in the insurance industry. One vital tool we use is the Estimated Maximum Loss (EML). Read on as we explore the importance of EML and how providing a site plan will help minimise EML for construction sites.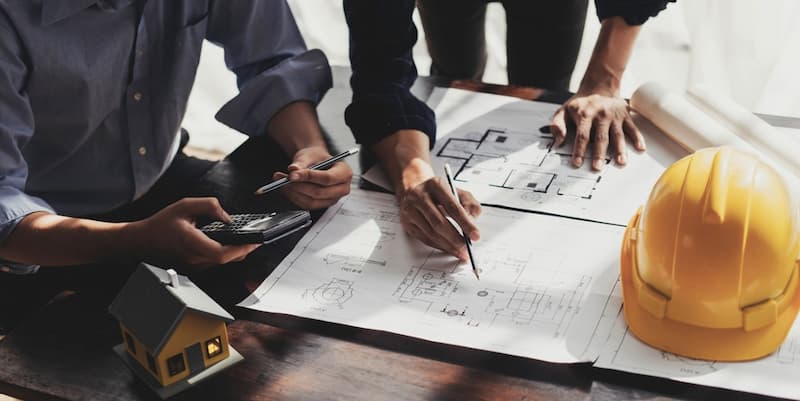 What is an Estimated Maximum Loss (EML)?
To start, let's discuss what EML entails and how insurers utilise it. The EML calculation estimates the maximum loss an insurer might face in a worst-case scenario incident. We can better assess the risk of insuring a construction site by determining this figure.
Various factors influence the EML, including the type of construction site and its unique characteristics. The location, distance between buildings, and the materials used are essential considerations that impact the calculation.
How Do Insurers Calculate EML for Construction Sites?
To accurately estimate EML for construction sites, our underwriters specialising in contractors' insurance play a crucial role. They make an informed assessment by analysing key information about the project, such as its scale, complexity, and potential hazards, but only with your help to define those risks.
Generating an estimate of the potential maximum loss is essential for pricing purposes and ensuring you get the best deal on your insurance; here's an example of why. For instance, if we're asked to provide £100,000,000 worth of CAR cover, we evaluate the likelihood of a loss of that magnitude. Usually, such a catastrophic loss scenario would involve an explosion devastating the entire site just before practical completion. Realistically, this is highly unlikely.
Why Provide a Site Plan?
At IC Insurance, we prioritise risk mitigation and accurate assessment. This is why we request a site plan when providing insurance coverage for construction sites. A comprehensive site plan can provide invaluable information and enable insurers and their partners to collaborate more effectively.
To illustrate further from the previous example, let's consider a £100,000,000 sum insured in a single high-rise building. The potential loss would superficially appear significant. However, if the majority of the project involves work at considerable heights (over 18m), the difficulty in distinguishing fires at those heights could impact the fire rating. Alternatively, if the project consists of individual houses or separate blocks, the spacing between them becomes a crucial factor influencing the overall rating. For example, if the biggest exposure on the site is five terraced houses, the maximum potential loss to an underwriter is likely to be under £1,000,000.
By analysing a site plan, our insurance brokers for business will better understand the layout, potential hazards, and risk management measures in place. This knowledge demonstrates that the actual risk is often lower than the sum insured may suggest. Consequently, it enables us to provide more accurate and competitive pricing for construction site insurance.
The Importance of Obtaining Information for Identifying Potential EML
Obtaining the right information is paramount when identifying the potential EML for insurers. We can make a thorough assessment by collecting detailed information about the project, including architectural drawings, construction plans, and safety protocols.
Access to accurate and reliable data ensures that our rates remain competitive while adequately safeguarding our clients' interests. This information-gathering process enables us to tailor coverage specific to the needs of each construction project while providing appropriate risk protection.
High-Risk Liability Insurance at IC Insurance
So, now you see why providing a site plan is of utmost importance when it comes to sourcing insurance for contractors at construction sites. By collaborating with our insurance brokers in Bolton and providing this comprehensive information, you'll minimise the EML, secure accurate coverage, and enjoy more competitive pricing.
If you want to learn more about our comprehensive insurance solutions for the construction industry, please get in touch with IC Insurance. Our expert team is ready to assist you.